Fall is officially here. This isn't just exciting because we can now wear more layers (although that's a plus!), but we can also bless our homes with the beautiful warm hues and comfort that fall brings. Cozy, welcoming, and relaxing, check out our eight fall home décor ideas below – and don't worry, none of them involve the oh-so-cliché, pumpkin spice!
1. Dress up your dining or coffee table
Found on HomesFeed
Add some fall personality to your dining room or living room with a gorgeous display of red, orange, yellow, and brown leaves, flowers, branches, and berries. You can up the creativity by adding a bold neutral to contrast the colour, like some frosted leaves.
2. Throws everywhere!
Found on HomesFeed
It's hard to ignore that fall, 2016 has been extremely chilly in Alberta. But there's a solution: place a decorative (yet warm) throw on your couches, rocking chairs, and lazy boys. Just the sight of a cozy blanket relaxes the mind and warms up the room, plus it's convenient for those quiet movie nights at home.
3. Warm and welcoming wreaths and floral arrangements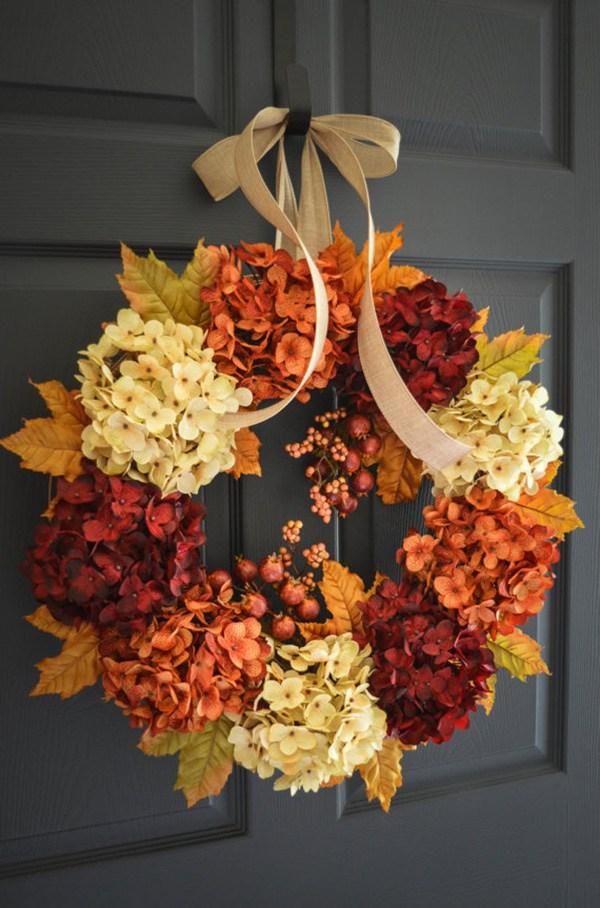 Found on BLovely Events
Welcome guests with an eye-catching wreath on your door. Place one on the outside and the inside of the front entrance so that you can enter and leave with a smile. Pinecones, colourful imitation leaves and flowers, berries, and branches are some of our suggestions to add to you wreath. You can also place large bouquets on the floor next to the door.
4. Rustic pendant lights
Found on HomeBunch
Pendant lights are stunning in the kitchen, dining room, or at-home bar. A brilliant way to incorporate fall into your pendant lights is to choose a fixture with a rustic and aged design. The old style along with yellow light bulbs will enhance the warmth of the room.
5. Choose a colour!
Found on HomeBNC
Who said fall themes only had to have reds, yellows, oranges, and browns? Find fall décor in colours you admire and make your home a work of art.
6. Or…go neutral
Found on Liz Marie Blog
With that being said, if colour isn't your thing, don't use it. Items associated with fall, such as pumpkins, leaves, and branches can look amazing and modern in shades of white, beige, and even grey!
7. Metal lighting
Found on The Kuotes
Mixing metals is becoming a fall trend that we can all be thankful for. Coppers, golds, bronzes, and silvers also look remarkable on lighting fixtures. They add a dash of "bling" that isn't overwhelming. Chandeliers, pendant lights, sconces, and lamps are easily found in these metals.
8. Fall-themed lamps
Found on Eslamoda
Found on Shelterness
Lastly, consider decorative table lamps. Find a lamp that screams fall and place it in a simply decorated location to make it stand out. The ones above are such lovely accent pieces that they can be admired on their own.
If you have an idea, we can help make it happen! Shop Red Deer Lighting —> HERE.